Facebook's Campaign Budget Optimisation: understanding and managing your transition
In Bionic, we pioneered "always on" dynamic optimisation of budgets within Facebook campaigns almost five years ago. The feedback from clients was universally positive, but like any product innovation, it wasn't without its challenges, particularly in the early days of its life. It's a core component of our optimisation suite and we like to think we understand the commercial drivers behind its adoption pretty well.
It's with that experience in mind that we are watching with interest Facebook's release of its own budget optimisation offering, Campaign Budget Optimisation (CBO).
What is CBO?
Just to set the stage, let's talk about what CBO is and what it is meant to do. Facebook's intention is to maximise advertisers' conversion rates by allocating budget to the Ad sets (the "containers" for targeting and creative copy within a campaign) that are most likely to deliver performance (and thus optimise spend budget). CBO automatically and continuously finds the best available opportunities for results across all Ad sets . CBO then distributes your single campaign budget across those Ad sets for optimal conversion. This is done "under the hood" in Facebook, so at any time during a campaign you have no visibility over what a specific Ad Set's budget is.
On the surface, this is great, but the loss of control over budget distribution across Ad sets has some of our clients asking questions.
Before CBO, each Ad Set in a Facebook campaign had its own budget. Advertisers could edit the budgets in these individual Ad sets , either manually, or automatically, using tools such as the ones we provide. With CBO, there is only an overall Campaign Budget, and no ability to edit budgets for Ad sets .
Why is this potentially a problem?
Some Ad sets in a campaign will always perform better than their siblings in a campaign. Take remarketing for example: It stands to reason that remarketing will perform better than pure prospecting. In a CBO world, the remarketing Ad Set will dominate spend as, on face value, and compared with prospecting Ad sets , the performance is better.
But thinking about it logically, if you are not prospecting enough in the first place (so not spending enough), who will you remarket to in the future?
It is this scenario (or, for example, others such as fixed budgets for retail locations) that leads clients to build one campaign with multiple Ad sets , each with a discrete budget or, in the case of a Bionic client, excluding one or two Ad sets from budget optimisation.
How do you re-create this kind of budget granularity in the CBO world? Just build new, standalone campaigns for the activity you want to control.
Agencies and brands have developed well-tested and hard-earned methods for campaign design, which included building individual Ad sets for budget control and inter-campaign optimisation.
In an effort to achieve this kind of granular control when using CBO, they are being recommended to simply create individual campaigns – containers that include targeting, creative and budget – for what previously would have been just an Ad Set within a campaign. One Ad Set per campaign.
Moving from one campaign to multiple campaigns sounds simple, but the impact should not be underestimated: This results in significant campaign management overhead, and the loss of previously successful workflows.
Why is this not as simple as it sounds?
For starters, if you want to create fixed budgets per territory (local catchment areas), what was, say, 20 Ad sets in a single campaign becomes 20 campaigns.
Want to ensure that remarketing (per territory) doesn't eat the budget? Make that 40 campaigns.
When you've broken them into 40 campaigns, how do you benchmark them against each other for insights and learnings? Which creative is working best overall? Which call to action?
This change is hard on brands that have "evergreen" campaigns (long-running, low-maintenance campaigns that just work). But it's particularly painful if multiple new campaigns have to be replicated in external attribution and tracking solutions such as Google Campaign Manager. Let's not forget that there are additional, knock-on impacts when building campaigns. Ad agencies, in particular, will need to figure out purchase ordering, invoicing and reporting when one campaign becomes multiple campaigns.
On the one hand, CBO is a great initiative from Facebook. It should offer better results by consolidating budget to enable Facebook to identify the users most likely to convert. We simply believe that the practical impact (direct and knock-on) of such a significant change may have been underestimated.
Is there any solution that allows me to control my spend on a given Ad Set in a campaign?
The good news is, yes there is!
With the introduction of CBO, Facebook has exposed the Minimum and Maximum Ad Set Spend Limits. These settings live at Ad Set level, and are somewhat hard to access in Facebook, but specifying either (or both) does allow you to retain control over what a specific Ad Set spends within a campaign.
At Bionic, we have redeveloped our Auto-Budget Reallocation (ABR) service to dynamically optimise these values in tandem with CBO. This allows customers to make the most of the structures they have and to make the transition to CBO as painless as possible.
What does this mean for Bionic customers? With CBO turned off, Bionic's Auto-Budget Reallocation dynamically allocates budgets across Ad sets . With CBO turned on, there is no Ad Set Budget field, so there is no budget for Bionic to reallocate. So instead, Bionic works on top of Facebook CBO, guiding the spend per Ad Set using spend limits. Using ABR, Bionic can dynamically adjust the spend limits at Ad Set level.
Using just Facebook's CBO, you will not be able to see what budgets are assigned to each Ad Set because the budget is set at the campaign level and shared by all its Ad sets . Bionic makes these Ad Set budget changes transparent, enabling our clients to see what the Ad Set spend limits (budget) are at any given time.
How do I move forward with CBO?
From September 2019, Facebook will be removing the option to switch CBO on or off. All campaigns will use CBO and you will no longer have the option to set budgets at Ad Set level.
As a Bionic client, you won't need to do anything to retain the current level of capability to automatically optimise spend at Ad Set level. You can already start to test how this will work by switching on CBO for selected campaigns.
If you are not yet a customer of Bionic, please feel free to get in touch for a free no-obligation proof of concept of our Ad Set spend optimisation tool or download our free guide: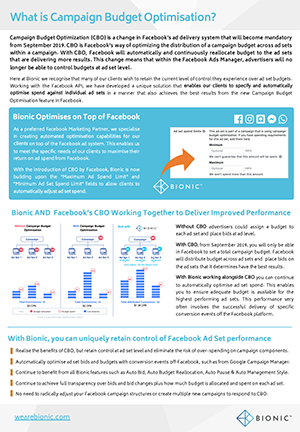 Facebook Campaign Budget Optimisation 2019